What is LoDi ?
24 October 2021 | Admin

Introduction to LoDi System.
In the UK many of you will not have heard of LoDi. I came across LoDi while talk to Xander at iTrain he had nothing but great things to say about them. So with this i decided to contact the company, Xander told me that the company that develops LoDi was called Lokstore Digital and i need to speak to Andreas Hornung. After a quick email to them i got a reply and started to find out more about them.
Little about Lokstore Digital.
As i said Andreas is the owner of Lokstore Digital, Since 2006 the company has been looking after customer across Europe helping in matters to Digital conversations and repair. After 10 years they had got a great reputation in the industry for repairs, lighting conversions and making model Digital controlled. As the company developed their focus changed a little form the repair and install side to focus on there own hardware and this is now know as LoDi.
The LoDi System.
In 2010 the uCom System to brought to the market developed under the LS Digital brand. As life moved forward and technology moved forward the system evolved from the early beginnings. So they got together for a big brainstorming session and developed a completely new, innovative and modern successor system. LoDi was now invented.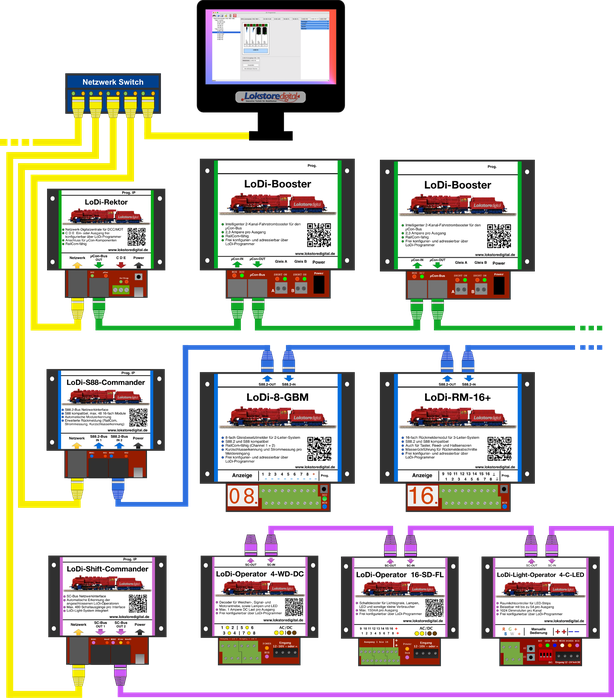 The LoDi system essentially consists of three main components:
LoDi-Rektor and the LoDi-Booster : Generates the track signal for the rolling stock.

LoDi-S88-Commander

and the connected feedback

modules

: Detect the locomotives on the track and report them back to the control software.
LoDi-Shift-Commander and the connected modules: Operate and control points, signals, lighting and room lighting control.
Each of the main components uses the same color throughout.
This makes it very easy to assign the individual hardware components to the function.
The LoDi system relies entirely on control via Ethernet.
This has the following advantages:
Extremely fast control of functions
Uncomplicated commissioning
Works from anywhere in the house
No annoying setup of special USB drivers or the like.
Platform independent
The system is set up either by our in-house user interface LoDi-ProgrammerFX or by a supported model railway software .