Uhlenbrock IntelliDrive 2 digital decoder for N-TT-H0e- and small H0 locomotives
Friday, 10 December 2021 | Admin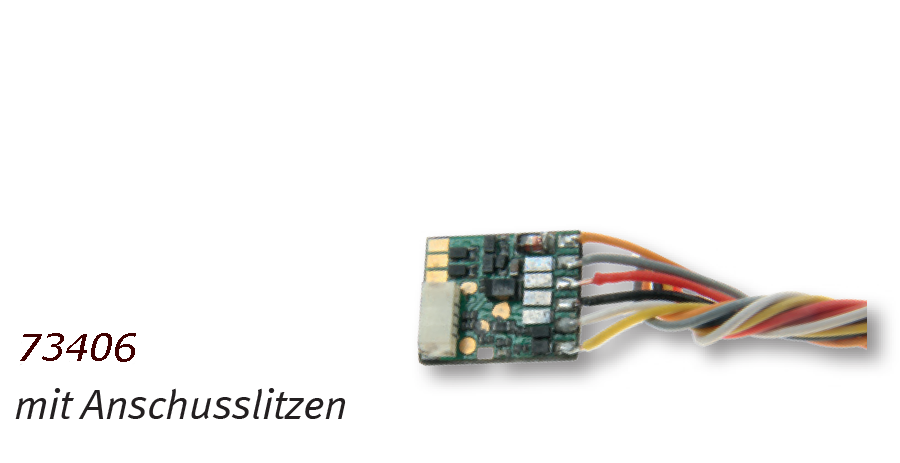 IntelliDrive 2 digital decoder for N-TT-H0e- and small H0 locomotives.
The standard decoder for small gauges is the 73406 series. These decoders are available with connecting cables 73406, 6-pin plug according to NEM 651 73416 and with PluX 12 interface 73340. This can e.g. B. can be used to equip Tillig locomotives. The highlight is the 73236 decoder for locomotives with the Next 18 interface. This is even equipped with the Intellimatic.
Our new decoders 73406 with connecting cables and 73416 with 6-pin plug according to NEM 651 are intended for the smallest locomotives. They are characterized by their very small size, which achieves high performance. Due to the built-in protection mechanisms, these are
The decoder is extremely robust even in its small size.
All IntelliDrive 2 decoders have RailComPlus ® , Selectrix ® , ABC brakes and extended function mapping and can be updated on the rails.
The decoders are equipped with a SUSI or microSUSI interface for easy connection of a sound module. With the Next 18 decoder, the SUSI connections can be found on the connector strip.
Together with the IntelliSound micro module or the IntelliSound compact module, this results in an extremely small decoder-sound combination.


















item number
73406
73416
73300
73310
73340
73236
Gauge
N-TT-H0e-H0m
N-TT-H0e-H0m
N-TT-H0e-H0m
N-TT-H0e-H0m
N-TT-H0e-H0m
N-TT-H0e-H0m
Data format DCC / Selectrix

®

/
/
/
/
/
/
Motorola

®

/ Mfx

®

data format
/
/
/
/
/
/
Engine type
Direct current
Direct current
Direct current
Direct current
Direct current
Direct current
Analog operation
=
=
=
=
=
=
connection
75 mm cable
6-pin plug
75 mm cable
6-pin plug
PluX-12
Next18
Outputs
Long-term resilience
0.7 A
0.7 A
0.8 A
0.8 A
0.8 A
0.8 A
Motor peak current
1.5 A
1.5 A
1.5 A
1.5 A
1.5 A
1.5 A
Light and special functions
0.4 A
0.4 A
0.4 A
0.4 A
0.4 A
0.4 A

3

)
Light outputs can be dimmed
Additional special function outputs
2
2
2
2
6

4

)
Time-controlled special function outputs
Servo outputs
2

5)

2

5)

2

5)

2

5)

2

5)

2

5)

SUSI interface
MicroSUSI
MicroSUSI
MicroSUSI
MicroSUSI
MicroSUSI
Next18 connector
Sound control in analog mode
LISSY output (= Solder pads)
properties
Motorola / DCC addresses
255/9999

2

)
255/9999

2

)
255/9999

2

)
255/9999

2

)
255/9999

2

)
255/9999

2

)
Motorola / DCC speed steps
14/128
14/128
14/128
14/128
14/128
14/128
Load regulation
Programmable motor curve
Shunting
Function mapping
Lighting that can be switched off on the train side
Intellimatics
Start-up braking delay DCC / Märklin / ABC
//
//
//
//
//
//
RailCom® / RailComPlus®
/
/
/
/
/
/
Short circuit and overtemperature protection
Updatable on the track
Fault memory
Size in mm
9.5 x 7.8 x 2.4
9.5 x 7.8 x 2.8

3

)
15 x 8.6 x 2.4
15 x 8.6 x 3.9

3

)
15 x 8.6 x 3.2

3

)
14.7 x 8.6 x 2.9
annotation
IntelliDrive 2
New version of
the
73405 decoder
for the smallest
locomotive models
IntelliDrive 2
New version of
the
73415 decoder
for the smallest
locomotive models
IntelliDrive 2
New version of
the
decoder 73105
IntelliDrive 2
New version of
the
decoder 73115
IntelliDrive 2
New version of
the
73145 decoder
IntelliDrive 2
New version of
the
73235 decoder

) SUSI and LISSY can only be used alternatively

) Dimensions without connecting pins

) 2 servo outputs are an alternative to the SUSI interface, a separate power supply for the servos is required